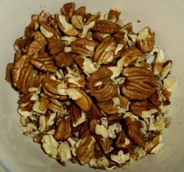 Wisconsin Hickory Nut Kernels
Nutrition Information (per ounce):
Protein: 3.6g
Carbohydrate: 5.2g
Recommended Daily Allowances of these vitamins and minerals:
Vitamin B-1 - 16%
Vitamin B-6 - 3% RMDA
Magnesium - 12%
Phosporus - 10% RMDA
2 oz - $5.00
One Pound "Baker's Packs" are available for $25 per pound. Call or Email to order!
orders@wisconsinhickorysyrup.com
920.789.8859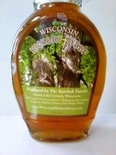 8oz Glass Jug of Wisconsin Hickory Syrup - $15.00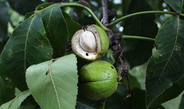 Wisconsin Hickory Nuts (in-shell) - 1.5lbs
$7.00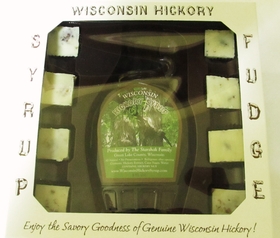 Wisconsin Hickory Gift Box
$35.00
This gift box created for that special person - someone who will appreciate your unique gift of Wisconsin Hickory Syrup and our award-winning Wisconsin Hickory Fudge!
Includes one 8oz bottle of Wisconsin Hickory Syrup
and 8 pieces (approx 4oz) of Wisconsin Hickory Fudge.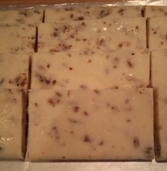 * Wisconsin Hickory Fudge - $12.00 Per 1/2lb box
* - made to order, email us for availability.
First time tasters of Hickory Syrup often comment that the robust, woodsy flavor coaxes
ima

ges of the rustic, pioneer days of the Midwest. In comparisons with natural Maple Syrup, tasters say the flavor of Hickory Syrup is not as overpowering, but more complex, with a pleasing blend of smoky, nutty, honey and woodsy flavors.
If you haven't tried Hickory Syrup,
- Have a taste!
You'll get hooked once you do!
Bottled in convenient 8oz glass jugs. This rare delight is terrific on pancakes, waffles and other traditional syrup uses. A notable substitute for honey in tea!
In addition to PayPal we do accept personal checks, however there is a ten day waiting period for the checks to clear and if it doesn't, a $30 returned-check charge.