About Us
Wisconsin Hickory Syrup is produced in the central part of the state of Wisconsin, near the Town of Princeton and the Native American spirit lake - "Day Cho Lah" (now called Big Green Lake).
Wisconsin Hickory Syrup founder and Wisconsin Hickory Association president Mike Starshak was featured in the 2018 Spring issue of Wisconsin People & Ideas Magazine. Mike's unique Wisconsin Hickory Syrup and his drive to promote Hickory and the potential for a Hickory Foods Industry in Wisconsin were featured in this issue.
2020 Harvest Expectations
Hickory is a masting tree - that is, it produces a nut harvest irregularly, usually every other year, sometimes even skipping two years! This cycle happens regionally and 2020 is scheduled to be an "off" year with a harvest often 1/4 to 1/10 that of a normal year. Early nut drop occurs in July with the forest scavengers often beginning to harvest prematurely in late August if it is a particularly dry summer.
The best advice we have for Hickory tree owners is to use this year to take care of your trees - trimming and cleaning around the base. Hickory shuckworms and beetle larva will often overwinter in the duff around the base of your tree. Another technique to rescue your nut harvest from grubs is allow chickens or pea hens to feed around your trees up until the first frost. These natural de-buggers will greatly reduce the grub population.
Lastly, feed your trees. Hickory enjoy a well-decomposed horse or cow manure. Spread this fertilizer away from the trunk, but no further that the outer drip line of your trees - they'll thank you next year with a bountiful harvest!
We are again buying stocks of hickory nuts in-the-shell from private sources for up to $.20 per pound. If you're interested in making a few bucks from this years harvest, or becoming an annual supplier, contact us and get on our registry! (info@wisconsinhickorysyrup.com).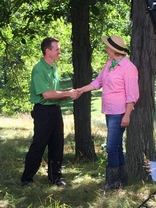 Wisconsin Hickory Syrup president Mike Starshak with Inga Witscher of Wisconsin Public TV's Around the Farm Table program during filming in Green Lake County, WI.
The episode featuring Hickory was broadcast Thanksgiving Day 2016 on Wisconsin Public TV, but you can watch it here.
(our segment begins at 11:00.)
Wisconsin Hickory Association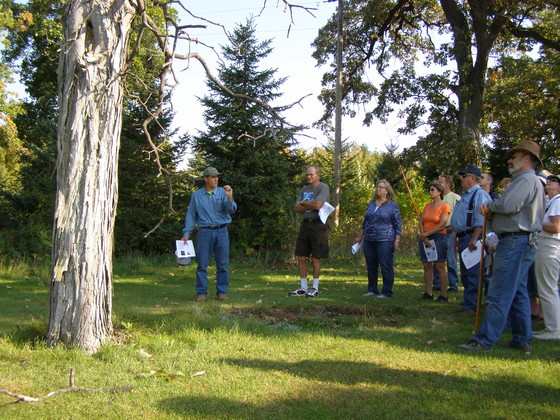 The Wisconsin Hickory Association ("WHA") has been formed to coordinate & educate property owners and interested parties who have Hickory, want to have Hickory, or desire to develop Hickory resources. In this age of agro-forestry and sustainable agriculture, we wish to promote the utilization of this naturally-occurring resource within Wisconsin.
To expand the awareness of this viable natural resource to all parts of Wisconsin and to generate, enhance and promote interest and utilization of Hickory.
If you have an interest in Hickory, be sure to visit:
WIHickory.org
Click on an Article below to read about us!