About Us
Wisconsin Hickory Syrup is produced in the central part of the state of Wisconsin, near the Town of Princeton and the Native American spirit lake - "Day Cho Lah" (now called Big Green Lake).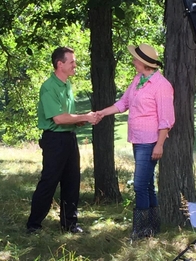 Wisconsin Hickory Syrup president Mike Starshak with Inga Witscher of Wisconsin Public TV's Around the Farm Table program during filming in Green Lake County, WI.
The episode featuring Hickory was broadcast Thanksgiving Day 2016 on Wisconsin Public TV, but you can watch it here.
(our segment begins at 11:00.)
Look for Wisconsin Hickory Syrup at the Milwaukee Winter Farm Market on December 16th and 23rd at The Mitchell Park Domes! Check out their site regularly to determine our once-monthly appearances in January, February and March.
2017 Harvest Results
2017 was another wonderful, typical "on" year harvest for Hickory in the Midwest. Harvest reports were in the normal range of 3 to 5 bushels of nuts for typical 50 to 75yr old trees. Although not the primary factor, the seasonal weather does affect the overall crop. Moderate temperatures, moisture and nutrients (especially zinc) are all important inputs. One pattern of note, there seems to be an increase in the number and frequency of grubs or shuckworms present in the Hickory nut crop in the southern third of the state that is making it's way north. Although it's winter and the harvest is over, Hickory enthusiasts hope for a hard frost. Here in the upper Midwest, there is some debate that the cold winters favorably impact the crop inasmuch as harsh winters tend to kill of a variety of insect pests which overwinter in the upper layers of the soil and duff.
We are again buying stocks of hickory nuts in-the-shell from private sources for up to $.20 per pound. If you're interested in making a few bucks from this years harvest, or becoming an annual supplier, contact us and get on our registry! (info@wisconsinhickorysyrup.com).
Wisconsin Hickory Association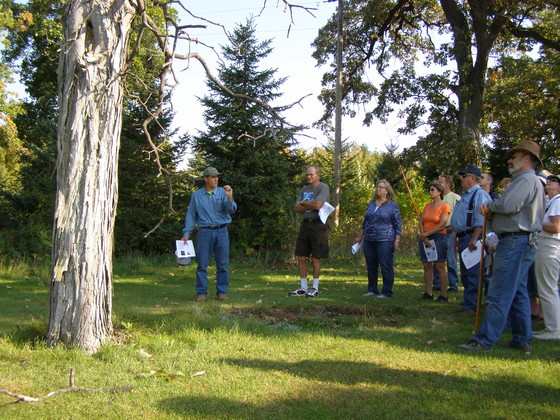 The Wisconsin Hickory Association ("WHA") has been formed to coordinate & educate property owners and interested parties who have Hickory, want to have Hickory, or desire to develop Hickory resources. In this age of agro-forestry and sustainable agriculture, we wish to promote the utilization of this naturally-occurring resource within Wisconsin.
To expand the awareness of this viable natural resource to all parts of Wisconsin and to generate, enhance and promote interest and utilization of Hickory.
If you have an interest in Hickory, be sure to visit:
WIHickory.org
Click on an Article below to read about us!